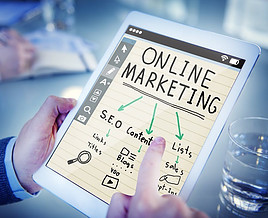 Are you involved with a Network Marketing Company? Have you followed their systems and struggled? You see the success all around you, or so it appears, and you wonder why is it you are not succeeding? Doesn't this work by duplicating a successful simple system your company has created? And then teach those you bring into the business to do the same? Let's get into the nitty gritty of How To Do Network Marketing Online – Part 1. Yes, I shall be going into more detail in Part 2.
How come it works for everyone else but doesn't work for you?
I have written about How To Make Money With Network Marketing Online. This was intended to be a general approach and did not give the nuts and bolts. In this series of Blogs I am going to reveal some secrets on this subject.
Rather than speaking in general terms, I shall be using my Network Marketing Program as a test case. The principles I will be revealing here will apply to any other company. Let's begin
What Is Network Marketing? – A Brief Primer
Network Marketing is a business model where products and services are sold through a multilevel network of distributors. In order for the system to work each distributor needs to sell only a few products. As well as recruit others to join their team and do the same.
Each company has a compensation plan to show how commissions are paid out. I shall not be discussing compensation plans since they are all different. The companies can do a much better job in explaining their compensation plans compared to me.
The biggest problem for most was in recruiting effective distributors and then training them to do the same.
What if there was a system where you could build a network of engaged distributors who were able to duplicate what you were doing?
Everything is done online. No need to talk to family and friends. Or talk to strangers and invite them to meetings.
OK Let's GO! – The Opportunity Phase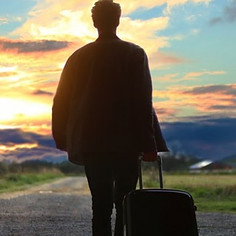 How do you do Network Marketing online? Let's start with the Opportunity Phase. I am going to break the process down into simple steps. I shall state what the step is. Then provide details in subsequent sections. Here is where you learn to develop your website that will attract interested prospects to you. You can then share valuable content about your opportunity
Opportunity Phase
Create your website that will attract traffic.
Include a series of Blogs with valuable information.
Where appropriate add links to your landing page in your Blog. Sparingly!
Give them the option of signing up as a customer or associate.
If they are not ready, provide a form to collect their information.
This information should automatically be entered into an AutoResponder.
Emails are sent spaced several days apart at various intervals and time
More information will be sent progressively, with sign up opportunities.
Once a prospect signs up they are put on a Retention Campaign.
This is just an overview. We shall go into the details, starting in the following Parts. It should be clear that this Blog is intended for those who already want to build a network marketing business online. It is not intended to tell you why that is a good idea. I covered that in my Blog, How To Make Money With Network Marketing Online. 
We will start below with tips on creating your website.
1 – Create Your Website That Will Attract Traffic
Instead of paying a lot of money to purchase leads that may not even be recent, I highly recommend developing your own business building website. Let me introduce you to one of the best kept secrets in town. An Online Business University that you can join for FREE! Click the WEALTHY AFFILIATE Banner below to find out more and enroll for free.
No credit card required!
Here are some critical details about your website. The focus should be on your customers. You need to know what problems they have and how your product or service will solve their problems.
Do not have your company links posted everywhere. In fact, at the beginning, don't say anything about your company. That will come later when curiosity is peaked and your prospects ask for more information.
In Network Marketing the purpose is not only to market the products or services but also to build your team of associates who like you, want to realize their dreams, by creating a business that pays residual income. Network Marketing can do that for you.
You must figure out who you want to work with. The skill is to be able to use the Internet to help your team mates come to you. Another term for this is called Attraction Marketing.
These questions are addressed with your Blog posts. Create an outline on what topics you want to cover and in the sequence that will give you the best opportunity for success.
When you click this banner you will reach a page where you can sign up with Wealthy Affiliate for free. The following image is the Dashboard page of my Wealthy Affiliate website. You will get a similar one.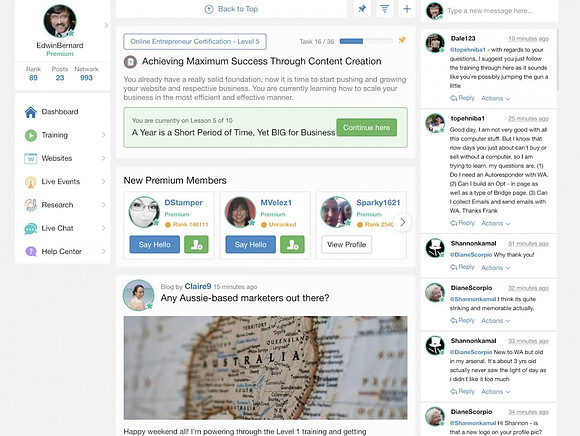 Notice the titles of the tabs on the left. I will list them below with a little explanation of each.
Dashboard – Here you will find a link to pick up where you left off in your training. You'll see a constant flow of new members arriving by the hour from all over the world. If you could scroll down further you will arrive at the latest Blogs, Members Questions, Success Stories and more.
Training – Wealthy Affiliate has a training plan on creating an affiliate marketing business that is very apt to find prospects for your Network Marketing business too.
Websites – This link will take you to the website building area. Everything is so well laid out. WordPress is the web building tool that over 30% of the world users. It is very powerful. And you get over 3000 templates to choose from.
Live Events – Every Friday evening Pacific Time, WA conducts a live Webinar on helpful topics on building your business. Typical webinars are on Google Analytics, Google Search Console. Bing Webmaster Tools, YouTube and much more. You can ask questions in real time. If your question is chosen you'll get an immediate answer.
Research – This is where the magic happens. The Jaaxy Lite Keyword finding tool is worth its weight like in a thousand dollar note! You can do so much more than find Keywords on Jaaxy.
Live Chat – As its name implies, there is a live chat area on the right of the website, 24/7. You can ask questions and receive immediate response.
Help Center – As its name implies, you can use this area to ask for help to some pretty high level individuals!
When you click on the banner below, you will go to a Wealthy Affiliate review where you will find a great overview of the company and how it can help you. There will be sign up links there if you are ready to give it a try for free.
In Part 2 we shall go over the rudiments of Network Marketing. Reasons why old school processes could be bad for you. And the reasons why online marketing methods have a much greater probability for success.
Network Marketing is not for everyone. But if done correctly, the possibilities of significant income are quite high. Affiliate Marketing has great possibilities. But why not over time, create multiple streams of income where you can use the lessons learned for Affiliate Marketing can be used to build a successful Network Marketing business?
In the meantime. I suggest sighing up at Wealthy Affiliate for free and start using the program to create your own website!