I've talked a lot about how I have experienced the benefits of LegalShield, it is time that I shared the details. When you read about the benefits I would love to get feedback from you in the comments section below on having unlimited access to lawyers for a low monthly fee instead of paying upwards of $200 an hour to talk to a lawyer to help you resolve a legal problem.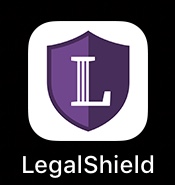 LegalShield Mobile App
The best way to do this is by referring to the menu system of the  LegalShield mobile app. When you become a member you can download this free valuable app on either an iOS or Android mobile device. You will see a new ICON with the letter L inside as shown above. Clicking it will reveal your plan number and other important information at your fingertips!
Front Page of Benefits
When you click on the L Mobile Icon a new page appears that provides easy access to your Law Firm and a button to take a snap of your speeding ticket if you are pulled over by a cop and given a ticket.
At the top is a link to the LegalShield Plan Info. When you click that you are shown a list of services that are covered.
Covered Services
Advice/Consultation/Representation
Documentation Preparation
Motor Vehicle Services
Family Matters
IRS Audit Services
25% Discount Services
Emergency Access 24/7
Additional Services
Will Preparation
MEMBER Perks
When you click the above menu items the following details are provided for each of the above line items that I share below
Advice/Consultation/Representation
Advice and Consultation 
Letters and Phone Calls 
Personal Document Review 
Trial Defense 
Document Preparation
Standard Will Preparation
Health Cars and Power of Attorney
Living Will
Motor Vehicle Services
Moving Traffic Violations
Accidents
Family Matters
Uncontested Name Change Assistance
Uncontested Adoption Representation
Uncontested Separation Representation
Uncontested Divorce Representation 
IRS Audit Services
Starts on the first complete year of membership
Up to 50 hours of Provider Law Firm time
Non-covered services
25% Discount Services for legal coverage extending plan coverage
Emergency Access
If you are arrested or detained 
Additional Services
Warranty Assistance
Lease
Agreement Review
Help Contacting Government Agencies
Debt Collection Assistance
Tenant Legal Advice
Small Claims Court Advice
Estate Settlement Advice
Consumer Protection Benefits
Member Perks – Discounts from major companies
The above is a general overview of a benefit included in a LegalShield Membership. Specific information is in the member contract.
Compare the following:
A typical monthly retainer for  an attorney is $500
LegalShield monthly family plan is $24.95
In today's environment, we have many reasons to need the services of an attorney. The main reason we do not follow through is the fear of having to pay the attorney fees of more than $200 per hour.
What if you had access to an attorney to consult with no additional fee other than your low monthly subscription, wouldn't you like to level the playing field with those who can afford these high fees?
LegalShield provides a way to do that. It is like legal insurance. Unlike auto insurance, the more you use it your premiums get raised, with LegalShield you are encouraged to use the services often with no change to the monthly fee.
Why not click the link below and become a member today?
LegalShield Membership Application
While you are registering for legal protection you may also want to consider Identity Theft Protection. A ID Theft family plan is also $24.95
I will review the Identity Theft Protection Plan in an upcoming post.
I highly recommend you review your life situation at the moment and make a list of areas you would like to get legal advice on. I created a post to help you review your options at:
How To Live A Stress Free and Happy Life In One Way You Never Thought Possible